Get your CoolSpools installed, configured and integrated by the experts
So, you're ready to implement CoolSpools. Whether you're looking to automate a report in PDF format, or building an entire strategy for IBM i application modernization, it probably can't come soon enough. But that's no problem: CoolSpools is a logical, intuitive product, you're a skilled technician. So implementation should be a breeze, right? All you need is a clear day, with no interruptions.
So much for the theory.
Because an average IT day, as we both know, never quite pans out that way. You start with the best of intentions – tasks listed neatly in priority order – then somehow get waylaid by a series of lesser issues:
Kelly's PowerPoint has frozen, right in the middle of her sales presentation.
Dave's been housekeeping his email, and now "they've all gone!"
Tracey's laptop won't reboot, and she's threatening drastic action.
And it doesn't end there, of course. As fast as you fix one problem, you're handed another. Then another. And before you know it, your priorities have gone out the window. (Much like Tracey's laptop. Well, she did warn you.)
Never mind. CoolSpools will just have to wait another day. Or another week. Or longer.
But one day soon surely you'll get that dream day, free from all delays and disruption? No phone calls… no users loitering outside your office door… not so much as a ping on your mobile!
Yeah, right. And when did that last happen? Look, you don't want to still be in the same impasse in 6 months' time, so maybe it's best to face a simple, if frustrating fact:
You don't have time to do everything.
Sometimes it makes sense to let someone else take the strain – especially with a one-off project, where any skills you acquire would hold less long-term value for your business. After all, your real priority here is using CoolSpools, so you can get the most from your AS400 data. When setup becomes an obstacle, it makes perfect sense to call in a Managed Service Provider.
And when it comes to managed service, who better than the developers themselves?
Jill Sherratt, MD at Ariadne, is a strong advocate. "We've already helped many organizations with our managed services. While we've made the download and instructions available to everyone, we recognise that many organizations are just too busy dealing with other challenges."
J F Renshaw, global food manufacturer, was one such case. As part of the strategy to streamline their AS400 platform, Shaun Pearson, Business Systems Analyst at Renshaw, planned to migrate their email functionality from Lotus Notes to Office 365 Exchange. But he soon discovered that IBM's SMTP server was highly complex to configure, and not the most informative when it came to fault diagnosis. It was eating days of developer time.
Fortunately, the solution was simple: CoolSpools email – a powerful application that distributes reports via email, directly from the IBM i environment. With his project already in extra time, Shaun immediately called in Life IT, a longstanding  CoolSpools partner based in the UK. By working with Life IT, not only would the frustrating email issue be resolved, but he could also switch his focus where it belonged – on core business projects.
Behind the scenes, for the Life IT and Ariadne technicians there was a chunk of complex work to be done. But for Shaun and Renshaw, disruption was minimal. "They set it up, said 'check it out, see if it's working'. It did. It was very easy, very easy." And that quality of service endured. A year later, Renshaw's support call history revealed not a single ticket logged for CoolSpools email.
That's a whole year, with no support issues at all.
A pretty compelling argument for a managed service, wouldn't you agree?
Download the full case study here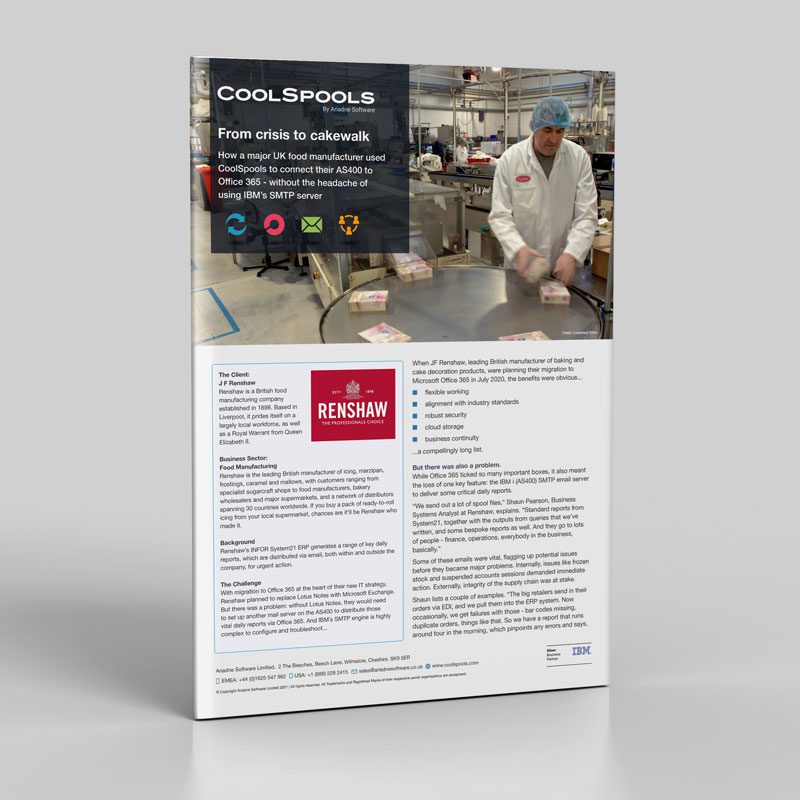 But it's just one example of many. Ariadne's range of CoolSpools managed services are designed to help anyone looking to enhance their IBM i environment. Recent examples include:
Conversion of spool files to Excel from AS400 ERPs (such as JDE, JBA, System 21)
Import of Excel files to AS400 for use in bespoke applications
Conversion of Domino employee data to XML for third-party payroll service
Dynamic integration of supplier order updates for use in external apps.
The CoolSpools team are all highly adept at installing, configuring, and integrating CoolSpools software into complex business environments. Ariadne Software (the makers of CoolSpools) is also an accredited IBM Business Partner, specialising in IBM i application development, integration, modernization, and data migration.
This unique blend of skills and experience means the team can analyse your business systems objectively, and propose the right solutions to your issues – issues that might otherwise become a roadblock for your day-to-day business operations.

Get your CoolSpools project off to the right start
Or simply call the CoolSpools team direct:
Americas:
+1 (888) 228 2415
[email protected]
Mon-Fri 9am to 5pm | GMT / BST
EMEA:
+44 (0)1625 547 962
[email protected]
Mon-Fri 9am to 5pm | GMT / BST
Download CoolSpools FREE for 30 days
Take a free test drive of the entire CoolSpools Suite, including converter, database, email and admin FREE for 30 days.
Download CoolSpools Suite